Experience

Head of Corporate Engineering
eShares
November 2016 - Present
eShares is the first and only SEC-registered Transfer Agent for private companies. Our online platform allows companies—from seed stage to pre-IPO—to manage equity electronically with the participation of their shareholders, employees, auditors, and legal counsel.
Our mission is to consolidate private company ownership into one common electronic registry, and bring a wealth of financial services—previously reserved only for public companies—to all privately held companies.

VP, Engineering
Railway
June 2014 - November 2016
Bootstrapped a company building Loyalty App and related Bluetooth beacon technologies.

VP, Engineering
Groupon
August 2013 - June 2014
Led all engineering and test teams in San Francisco building a visionary "merchant OS" platform for managing the operation of small businesses.
Re-designed and re-wrote complex Breadcrumb Point-Of-Sale (POS) product running on multiple iPads, including sophisticated web services, reporting, and administration. New version implemented as a clean Service-Oriented Architecture (SOA) using Rails and Node. Hired new employees to replace outside contractors. Improved reliability and scalability of our credit card processing service.
Click to see the Merchant OS vision video:



VP, Engineering and Operations
Mixr Inc.
January 2012 - April 2013
Acquired by Match.com for our ongoing business, technology, and team.
Stabilized unhappy team and helped them to refocus. Created the Mixr iOS app with personalized avatars moving through virtual, 3D-like environments such as clubs and cafes. In addition, grew legacy dating service to over 12 million members.
VP, Engineering and Operations
Line2
November 2010 - September 2011
Line2 app provides a real second phone number for sending and receiving calls and SMS/MMS.
Reduced outages by over 50%. Created both Android and designed-for-iPad apps. Grew service to over 300,000 VoIP phone calls and over 800,000 text messages a day. Hailed by the New York Times and Entrepreneur magazine.
Click to see Line2 HD for iPad (also available for iPhone and Android):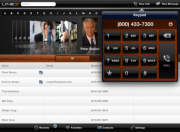 Director, Software Development
Citrix Systems Inc.
December 2007 - June 2010
Led development of GoToMeeting®, GoToMyPC®, GoToAssist® and all other remote services used by over 100 million users. Team built complex cross-platform native apps, architected to share code across OS and device type. Created new apps for iPhone, iPad, and BlackBerry. Led Scrum rollout across entire division.
Click to see a sampling of GoToMeeting mobile and desktop apps my team created: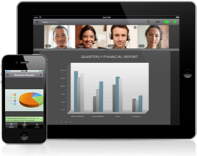 VP, Software Development
m2vc, inc.
March 2006 - December 2007
Joined as a business partner with new CEO. Hired a local engineering team and took the development of our web-based SaaS merchandising information exchange in-house (originally developed overseas), dramatically improving feature delivery times and quality. Created a new mobile inspection app with dynamic forms created by drag and drop on the Web. Forms and data synchronized wirelessly in the field.
Click to see m2vc Merchandising Information Exchange product brief (PDF):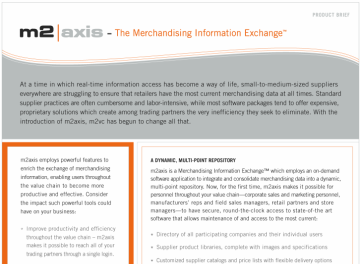 Director, Software Development
Oracle Corporation
November 2001 - March 2006
My entire development team joined Oracle following the acquisition of Indicast (see below). Integrated our patented voice platform technologies, then created a mobile plug-in XForms processor (a precursor to HTML5 Forms), and later created an RFID platform for mobile devices.

VP, Engineering
Indicast Corporation
December 1999 - November 2001
Acquired by Oracle for our technology and the development team who created it. Led team through numerous trials and tribulations to get to acquisition.
Founders' first hire. Built engineering team and created a speech-driven all-audio news and information service. The user called a phone number and heard audio news and information, navigating and selecting content by speech requests. Service offered almost 2,000 pre-recorded audio topics including Wall Street Journal Report, ABC News, AP News, etc. Other features: voice-activated dialing, email including voice replies, and voice driving directions.
Co-inventor of three of the technology architecture patents from this work.
Technologies
Technologies my teams have employed:
Rails, Ruby, RoR, Node.js, Redis, iBeacon, Bluetooth Low Energy (BLE), iOS, iPhone, iPad, Android, Objective-C, Swift, Cocoa Touch, Cocos2D, SmartFoxServer, Amazon EC2, ELB, Elastic MapReduce, Hadoop, Solr, A/B Testing, C++, Linux, Apache, Perl, MySQL, memcached, beanstalk, Zenoss, Chef, ejabberd, XMPP, Mahout, Oracle, DOM, XPath, XSLT, XForms, VoiceXML, XHTML, HTML, CSS, HTML5, CSS3, JavaScript, AJAX, jQuery, Flash, ActionScript, Mac OS X, C#, VB.NET, Windows Phone, SQL Server, IIS, ASP.NET, SOAP, REST, Java, JEE