Experience

VP, Engineering
Railway
June 2014 - Present
Railway's Platform-as-a-Service allows retailers to connect with consumers, build customer loyalty, and enhance the customer's shopping experience. This includes Point-of-Sale (POS), payment processing, customer loyalty apps, and business intelligence tools that empower retailers to leverage their customer relationships. Our Bluetooth beacon technology detects when a customer enters and can send targeted special offers to their smartphone. After their visit, Railway can also send personalized coupons relevant to them to drive repeat business.

VP, Engineering
Groupon
August 2013 - June 2014
Leading all development, test, and operations for the San Francisco office, including:
A highly-reliable PCI-compliant credit card processing service that can be used with our iPhone, Android, or laptop apps, as well as existing card terminals.
Breadcrumb PRO—an affordable and powerful iPad-based Point-Of-Sale (POS) system delivering game-changing capabilities for the food and beverage industry. It includes over 200 power features and customizations including multiple synchronized iPad stations, table management, flexible kitchen printing, labor tracking, real-time reporting, and offline mode.
Gnome—a full POS solution that can also automatically redeem Groupons using Bluetooth or search for customers by name, Groupon barcode or voucher number. CEO Eric Lefkofsky says, "When it's complete, Gnome will serve as an operating system for merchants to run their entire operation and enable them to create real-time promotions that bring customers into their business when they need them the most."

VP, Engineering and Operations
Mixr Inc.
January 2012 - April 2013
Mixr was acquired by Match.com/IAC, a large public company.
Led development, QA and technical operations for iOS, Android and Facebook apps, along with web sites and services for over 12 million members. Introduced highly agile processes which allowed the team to deliver real user value early and often.
Drove development of new Mixr iOS app which brings real-time group interactions to virtual, 3D-like environments such as clubs and cafes. Users customize their avatar, dance with others, visit a "photo booth" to take pictures of their avatar in virtual or real backdrops and earn "Cred" used to purchase items and skills.

VP, Engineering and Operations
Line2
November 2010 - September 2011
Led development and technical operations for our cloud-based services handling over 300,000 VoIP calls and over 800,000 SMS messages a day. Managed development of the popular Line2 app for iPhone, iPad, iPod Touch, and Android with over 1.5M downloads. This app provides a full featured professional second phone line with carrier-grade texting and HD audio quality.
Led the creation of new native iPad and Android versions of the Line2 iPhone app.
Line2 has won numerous awards, including:
First place in the Mobile Apps Showdown at CES 2011.
Top Ten Must Have Apps by David Pogue of the New York Times
Top 100 Most Brilliant Ideas of 2010 by Entrepreneur magazine.
Click to see Line2 HD for iPad (also available for iPhone and Android):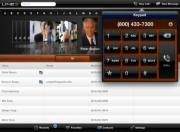 Director, Software Development
Citrix Online, Division of Citrix Systems Inc.
December 2007 - June 2010
Headed up engineering for GoToMeeting®, GoToMyPC®, GoToWebinar™, GoToTraining® and GoToAssist® applications with over 100 million users last year.
Created new mobile apps for iPhone, iPad and BlackBerry, as well as Flash, while driving Windows, Mac and Linux native client development.
Led initiatives to convert entire development organization from heavy "waterfall" process to Agile (specifically Scrum).
Click to see a sampling of GoToMeeting mobile and desktop apps my team created: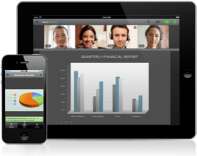 VP, Software Development
m2vc, inc.
March 2006 - December 2007
Hired team and created a web-based SaaS merchandising information exchange and a mobile inspection app service.
Led creation of a web site that allows suppliers, distributors, retailers and sales reps to consolidate merchandising information within a permissions-based dynamic repository shared with partner companies throughout the retail value chain.
Designed and implemented a mobile inspection solution for Windows Mobile devices. Users create an inspection form on the web by dragging-and-dropping fields (using AJAX). Inspectors in the field synchronize wirelessly to get the latest routes and forms and to upload completed inspections.
m2vc was awarded:
Click to see m2vc Merchandising Information Exchange product brief (PDF):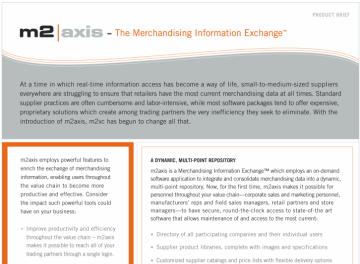 Director, Software Development
Oracle Corporation
November 2001 - March 2006
My entire development team joined Oracle following the acquisition of our startup Indicast.
Led integration of Indicast's patented voice platform technologies into the OracleMobile Application Server Wireless platform.
Managed development of a new XForms processor as a plug-in to web browsers on mobile devices for use by the US Census. XForms (a predecessor of HTML5 forms) includes client-side operations such as field validation and local storage. Added facilities for automatic management of intermittent connectivity.
Led team to design and build Oracle's first RFID and barcode platform for mobile devices.

VP, Engineering
Indicast Corporation
December 1999 - November 2001
Company acquired by Oracle to get our technology and the development team that created it.
Founding member of the executive team. Hired the entire development team and built a robust and highly scalable speech-driven audio news and information service with paying customers. Service presents pre-recorded audio content including Wall Street Journal Report, ABC News, AP News, weather, real-time sports scores, traffic, flight times and lifestyle content, consisting of almost 2,000 topics. The service also includes voice-activated dialing, email and voice driving directions.
Alltel (regional wireless carrier with over 12 million subscribers) tested our service against BeVocal (now the On Demand division of Nuance) in a three-month trial of hundreds of customers. The competition had over three times our staff, over ten times our funding and a year's head start. We won the trial and were the unanimous choice of Alltel's senior management.
First voice portal to sign a deal with a wireless service provider.
Co-inventor of three of the technology architecture patents from this work.
Advisory Boards

Advisor
Anchor Free
September 2014 - Present
AnchorFree's Hotspot Shield application provides secure browsing, privacy, and freedom online, with over 200 million downloads. Hotspot Shield secures all Internet communications and web browsing and protects each user's privacy and identity online. It makes each page you visit as secure as your banking site, turning all HTTP traffic into HTTPS.

Growing by more than nine million new downloads per month, Hotspot Shield is the most popular VPN service in the world and the No. 1 security and privacy app on iPhone and iPad devices.

Advisor
Prism Skylabs
March 2014 - Present
Prism Skylabs is the global leader in visually understanding and optimizing offline commerce. Its unique cloud service transforms any video camera into a visual merchandising, auditing, and business intelligence tool that can be accessed from any device.

With Prism Skylabs, businesses can measure offline conversion, understand long-term trends, and dig in to powerful analytics — from dwell to footpaths to product lift — using the cameras they already have. Prism Skylabs condenses customer interaction and movement into stunning imagery and reports that provide instant understanding of any moment or period of time.
Advisor
Visual Group Inc.
July 2012 - Present
Visual is a powerful free tool used to create simple animations or fully-interactive animated applications with just swipes and touches on a mobile device, or using your keyboard and mouse.