Summary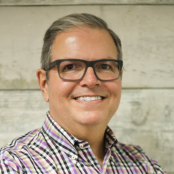 I solve the pain that startups experience as they transition from the first few engineers to scaling the team and introducing process. As I grow the team, I retain those valuable original team members, implement light agile processes, and create an open supportive culture
I started my career as a software engineer working on compilers and debuggers, moving to OS kernel code and drivers. I'm now focused on growing and retaining great teams while building complex high-availability web services and mobile apps leveraging technologies such as Node, Rails, Redis, Android Java, Objective-C/Swift, and SQL and NoSQL databases.
I've led engineering at a number of companies—selling two startups to public companies. I also enjoy "paying it forward" by advising some exciting technology companies.
Experience

VP, Engineering
Railway
June 2014 - Present
I joined Railway to bootstrap a company with a vision to leverage the information gathered from a Loyalty App and beacon technologies. This information (gathered with the users' permission) is far more valuable to manufacturers and marketers than selling the services themselves.

VP, Engineering
Groupon
August 2013 - June 2014
I took on leadership of all of the engineering and test teams in San Francisco because I wanted to work with this exceptional team, formed from the acquisition of multiple startups. Our multi-year vision was to build a "merchant OS" platform for small businesses to run their business.
Re-designed and re-wrote the Breadcrumb Point-Of-Sale (POS) product running on iPads (including complex web services, reporting, and administration) as a clean Service-Oriented Architecture (SOA) in Rails and Node. Leveraged those services to remove redundant code in other products, and added powerful new features like offline mode.
Reduced costs, and retained our technology expertise in-house by replacing a number of expensive engineering contractors (critical at the start of the effort) with employees.
Improved reliability and scalability of our PCI-compliant credit card processing service used by our iPhone, Android, and laptop apps, as well as legacy card terminals.
Click to see the Merchant OS vision video:



VP, Engineering and Operations
Mixr Inc.
January 2012 - April 2013
Mixr was acquired by Match.com for our ongoing business, technology, and team.
The company was originally named SpeedDate, and had recently hired a new CEO, who hired me. The dating site was lucrative, but we wanted to add a new product that could deliver a "hockey stick" growth curve. I joined to lead development, QA, and operations and realize this new product vision.
While I was interviewing some great engineers were leaving. After joining I immediately met with each person individually, and then made changes that stabilized the team and helped them to refocus on technical challenges. I'm still very close to those engineers today.
Created the Mixr iOS app which brings real-time group interactions to virtual, 3D-like environments like clubs and cafes. Users customize their avatar, dance with others, visit a "photo booth" to take pictures of their avatar in virtual or real backdrops, and earn "Cred" used to purchase items and skills. We later renamed the company Mixr, after the app.
Grew the SpeedDate service to over 12 million members through the web site and iOS, Android, and Facebook apps.

VP, Engineering and Operations
Line2
November 2010 - September 2011
I decided to move to San Francisco. Line2 was an exciting small company with an iOS app and service that allowed real phone calls and the sending of SMS/MMS messages using a built-in second phone number (thus "Line2"), all for $9.95/month.
Reduced outages by over 50% through environment and process changes
Created the Android app by hiring an Android engineer and setting up processes to manage the substantial compatibility challenges of the Android variations.
Built a designed-for-iPad app that unified all voice and text messaging into one clean and powerful interface. Now your iPad is also a phone!
Grew the service to over 300,000 VoIP phone calls and over 800,000 text messages a day, won First Place at the CES Mobile Showdown, was hailed by the NY Times as a Top Ten Must Have App, and made Entrepreneur magazine's Top 100 Most Brilliant Ideas.
Click to see Line2 HD for iPad (also available for iPhone and Android):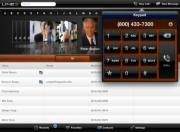 Director, Software Development
Citrix Systems Inc.
December 2007 - June 2010
I joined Citrix to lead the development teams creating GoToMeeting®, GoToMyPC®, GoToAssist® and all other remote services with over 100 million users. This was a very senior engineering team, building complex cross-platform native apps, architected to share code between products.
Created new remote meeting and access apps for iPhone, iPad, and BlackBerry.
Led initiatives to convert the entire development organization to Scrum. Became a certified ScrumMaster , trained by Ken Schwaber, co-inventor of Scrum.
Click to see a sampling of GoToMeeting mobile and desktop apps my team created: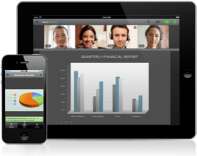 VP, Software Development
m2vc, inc.
March 2006 - December 2007
The new CEO brought me on as a partner in the business.
Hired a local engineering team and took the development of our web-based SaaS merchandising information exchange in-house (originally developed overseas), dramatically improving feature delivery times and quality.
Created a new mobile app to allow inspectors to report issues at retail locations. Dynamic inspection forms were created in the web browser by dragging and dropping fields. Inspectors in the field synchronized wirelessly to get the latest inspection forms and to upload inspections (including photos and barcodes) for immediate review.
Click to see m2vc Merchandising Information Exchange product brief (PDF):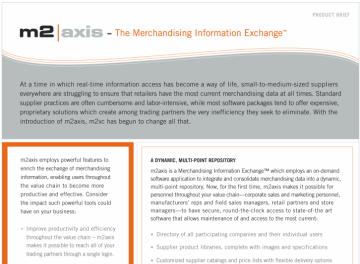 Director, Software Development
Oracle Corporation
November 2001 - March 2006
My entire development team joined Oracle following the acquisition of Indicast (see below). They wanted both our technology and people. There we integrated our patented voice platform technologies, then created a mobile plug-in XForms processor (a precursor to HTML5 Forms), and later created an RFID platform for mobile devices.

VP, Engineering
Indicast Corporation
December 1999 - November 2001
Indicast was acquired by Oracle for our technology and the development team who created it.
This was my first startup and first VP Engineering role. We created a speech-driven all-audio news and information service. The user called a phone number and heard pre-recorded audio news reports as well as content presented in "concatenated speech" (audio snippets combined to form sentences), navigating and selecting by user speech commands.
Joined immediately after the founders, and hired the entire engineering and QA team. We created a speech-driven service, and secured paying wireless providers. Service offered almost 2,000 pre-recorded audio topics including Wall Street Journal Report, ABC News, AP News, etc. The service also included voice-activated dialing, email including voice replies, and voice driving directions.
The acquisition by Oracle took months of diligence. All of the execs were on half pay (unknown to others), and we later had to skip a couple of paychecks for everyone. Held the engineering team together and guided them through the process without losing a single engineer. I've remained close to many of those engineers.
Co-inventor of three of the technology architecture patents from this work.
Advisory Boards

Advisor
Anchor Free
September 2014 - Present
AnchorFree's Hotspot Shield application provides secure browsing and privacy, with over 200 million downloads. Hotspot Shield secures all Internet communications and web browsing and protects each user's privacy and identity online. Growing by more than nine million new downloads per month, Hotspot Shield is the most popular VPN service in the world and the No. 1 security and privacy app on iPhone and iPad devices.

Advisor
Prism
March 2014 - Present
Prism transforms any video camera into a visual merchandising, auditing, and business intelligence tool that can be accessed from any device. Prism condenses customer interaction and movement into stunning imagery and reports that provide instant understanding of any moment or period of time.
Advisor
Visual Group Inc.
July 2012 - Present
Visual is a powerful free app used to create simple animations or fully-interactive animated applications with just swipes and touches on a mobile device, or using your keyboard and mouse.
Technologies
Technologies my teams have employed:
Rails, Ruby, RoR, Node.js, Redis, iBeacon, BLE, Bluetooth Low Energy, iOS, iPhone, iPad, Android, Objective-C, Swift, Cocoa Touch, Cocos2D, SmartFoxServer, Amazon EC2, ELB, Elastic MapReduce, Hadoop, Solr, A/B Testing, C++, Linux, Apache, Perl, MySQL, memcached, beanstalk, Zenoss, Chef, ejabberd, XMPP, Mahout, Oracle, DOM, XPath, XSLT, XForms, VoiceXML, XHTML, HTML, CSS, HTML5, CSS3, JavaScript, AJAX, jQuery, Flash, ActionScript, Mac OS X, C#, VB.NET, Windows Phone, SQL Server, IIS, ASP.NET, SOAP, REST, Java, JEE